Oman might not be the first bikepacking destination that you may think of but once I got interested in it, it started to pop out anywhere.
Not really knowing a thing about this country, I got interested after stumbling over the Bikingman-Series and decided that this should be my next bikepacking destination. If somebody asks me now, if he should go there, my reply will be: Go there and find out.
Oman was different than any of my previous tours, but maybe that was just what we made out of it. I think this time it was more about getting to learn and interact with a different culture, than making crosses on the sightseeing bucketlist. In advance if been concerned that the landside will bore me really fast. But actually it was very impressive cycling through never ending canyons. Sometimes I got reminded on scenes out of Westworld or other western movies.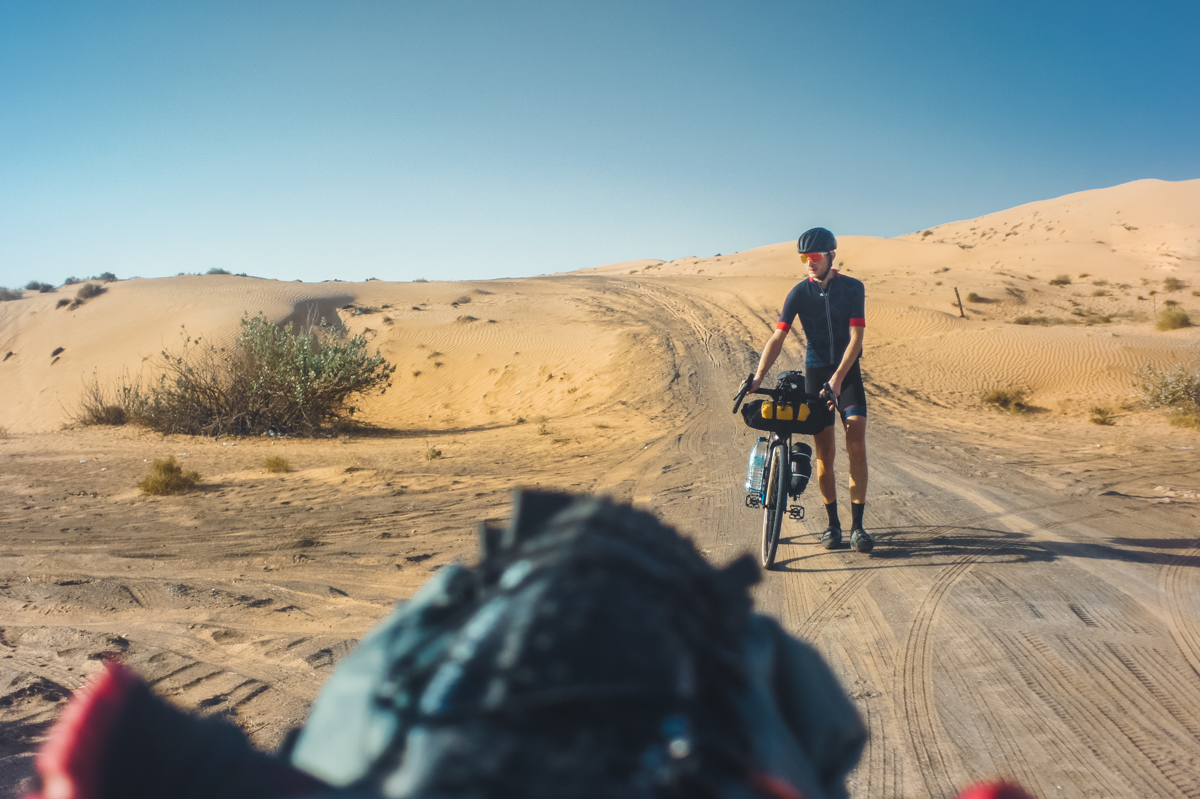 TOUR
This time the planning was done really sloppy. I had a rough sketch of places to go and built a quick tour around it. Actually I didn't expect that much climbing but the rest worked out really fine. Of course I had to make some corrections because of daily distances, combined with places I wanted to pitch my tent, like Wahibi Sands, a wandering desert or sleeping on top of Jebel Shams.
We started in Muscat and left clockwise into the direction of Sur. In Sur we decided to go straight down until Wahibi Sands on a 170km tour. The next day we continued into the direction of Jebel Shams and made it to Nizwa, which is about 200km away.
After a short visit at the Fort of Nizwa, we started to go for the Jebel Shams – which we really thought would be easier, being used to some italian mountain passes with nice and smooth switchbacks. But I will come to this later. After one night on top of Jebel Shams we cycled back to Nizwa and afterwards straight to Muscat. In total we cycled 900km with an elevation of 10000hm in 7 days.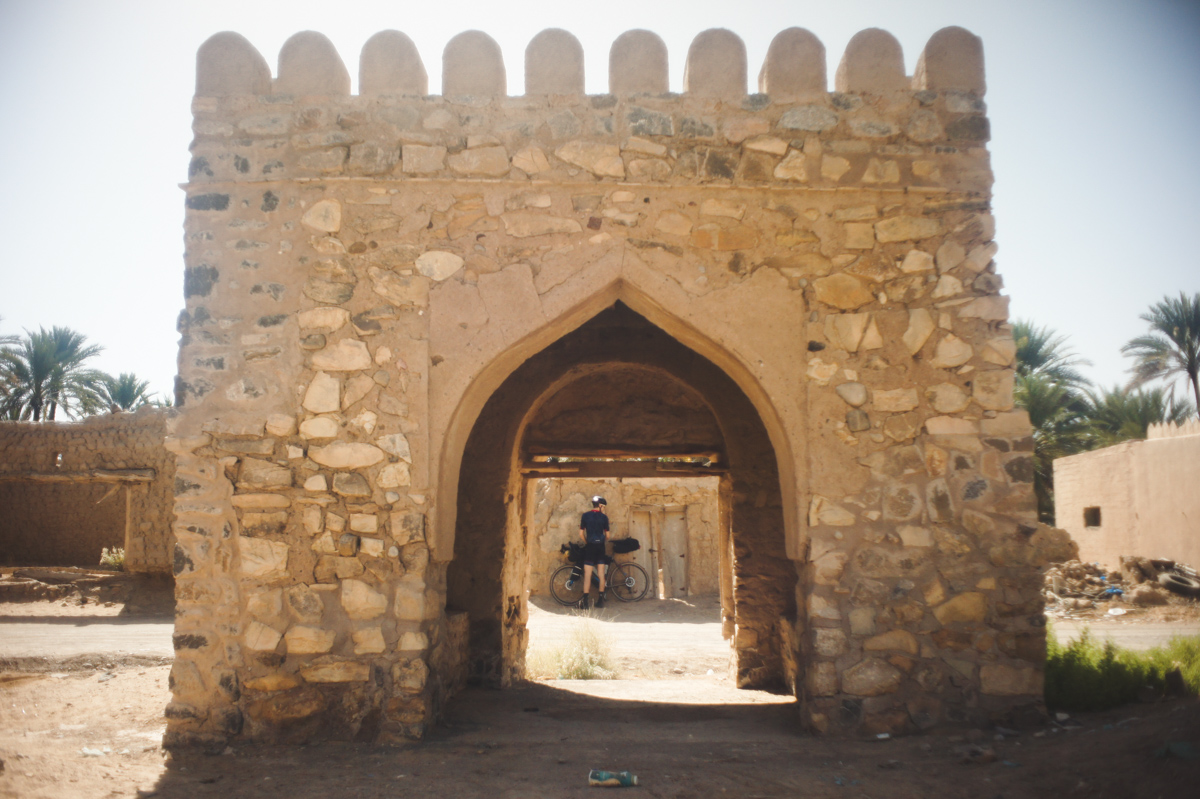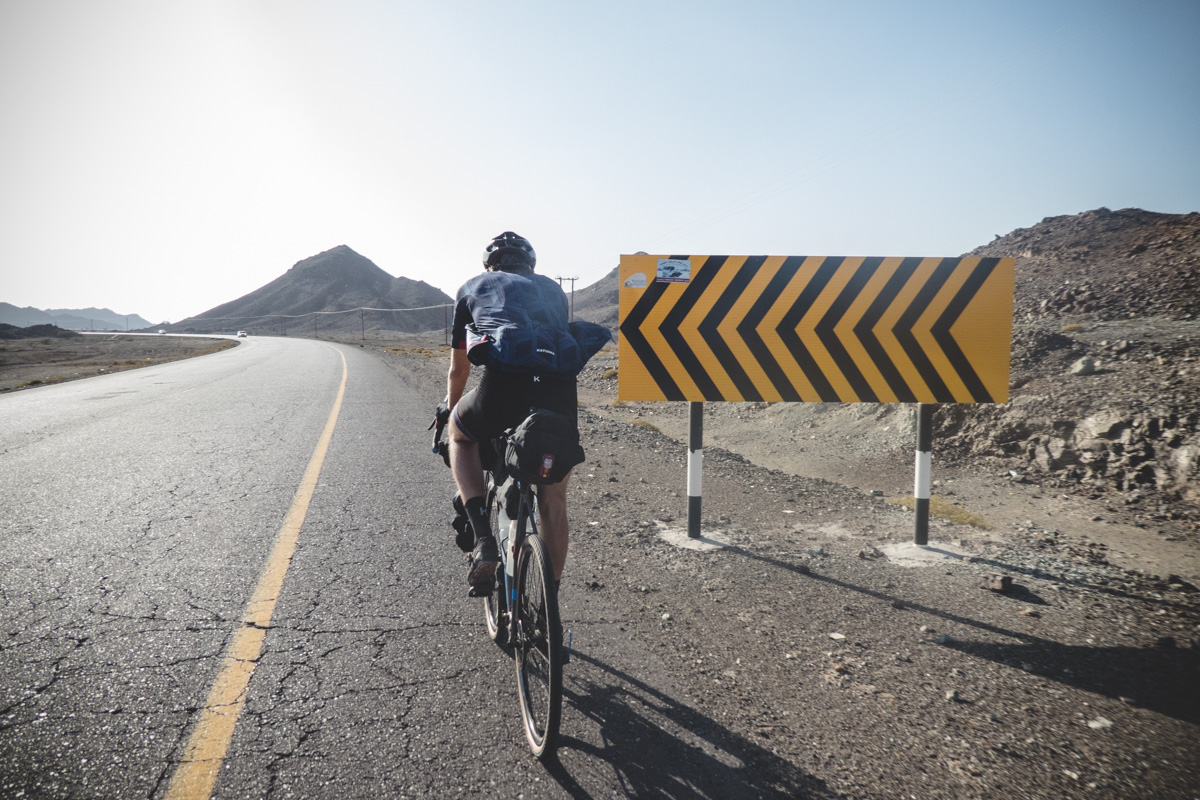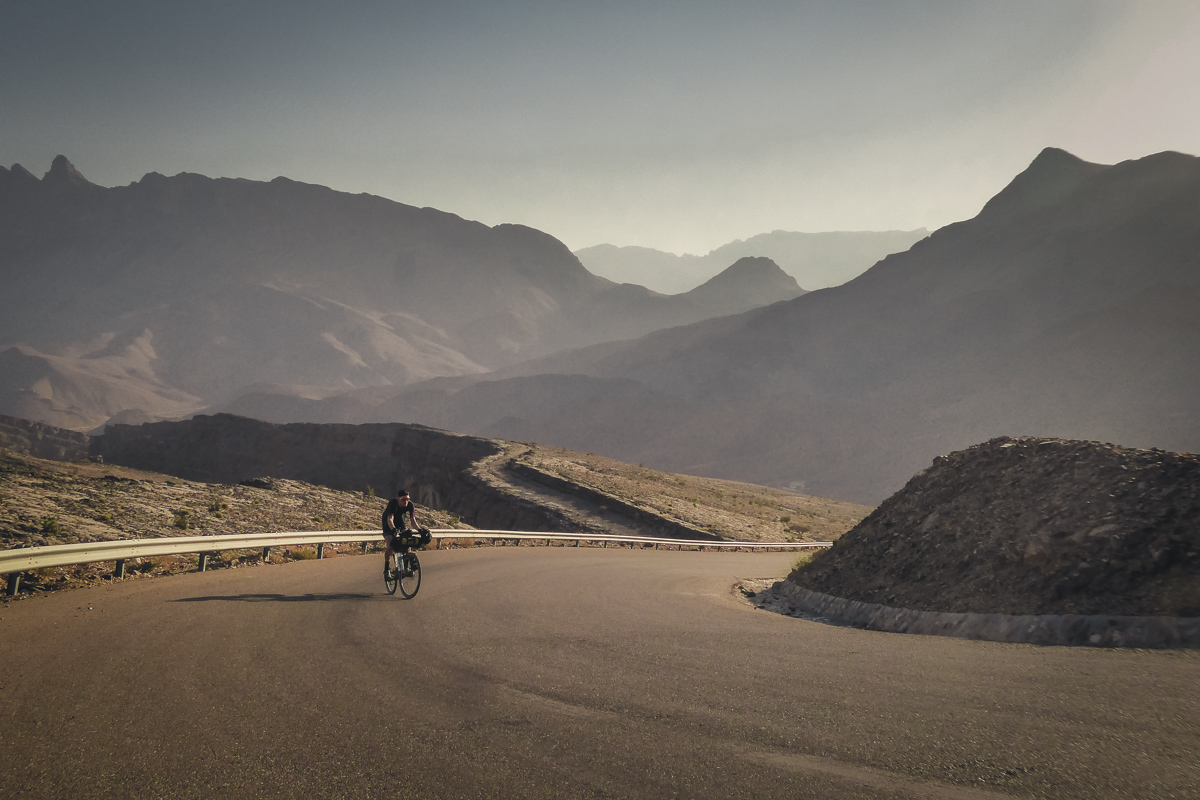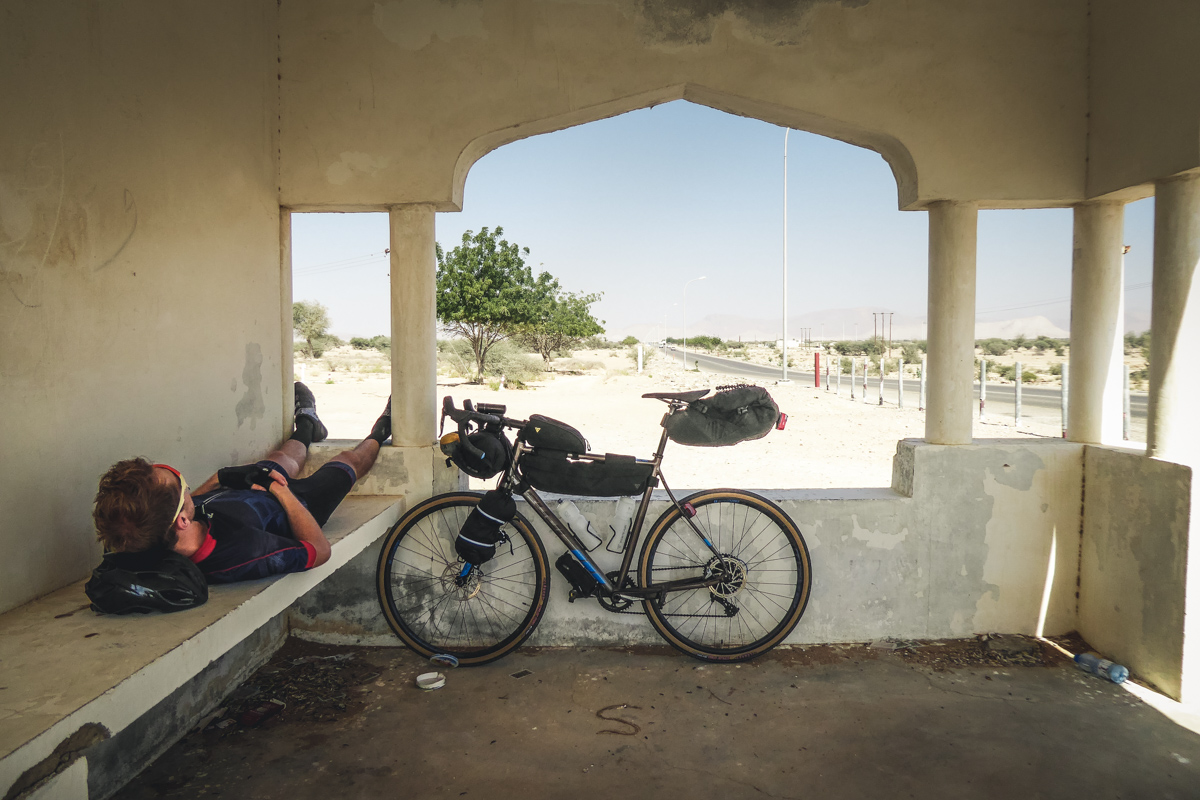 HEAT
For me arriving there, being used to winter conditions with a temperature close to 0 degrees, the change of temperature wasn't as heavy as I expected it to be. Never the less cycling the whole day at 30° middle is challenging for mind and body. The only time it is ok to ride is two hours after sunrise and before sunset. The only change to really escape the heat is cycling at night time, which is nice, but also bears the danger of being overseen by a car. So I won't recommend either. We did it once from Wahabi Sands to Nizwa on a 200km long trip and on roads were you can't find the broad sideline. You really need balls of steel not being afraid of getting run over by a car, in times of bad news all over the cycling scene.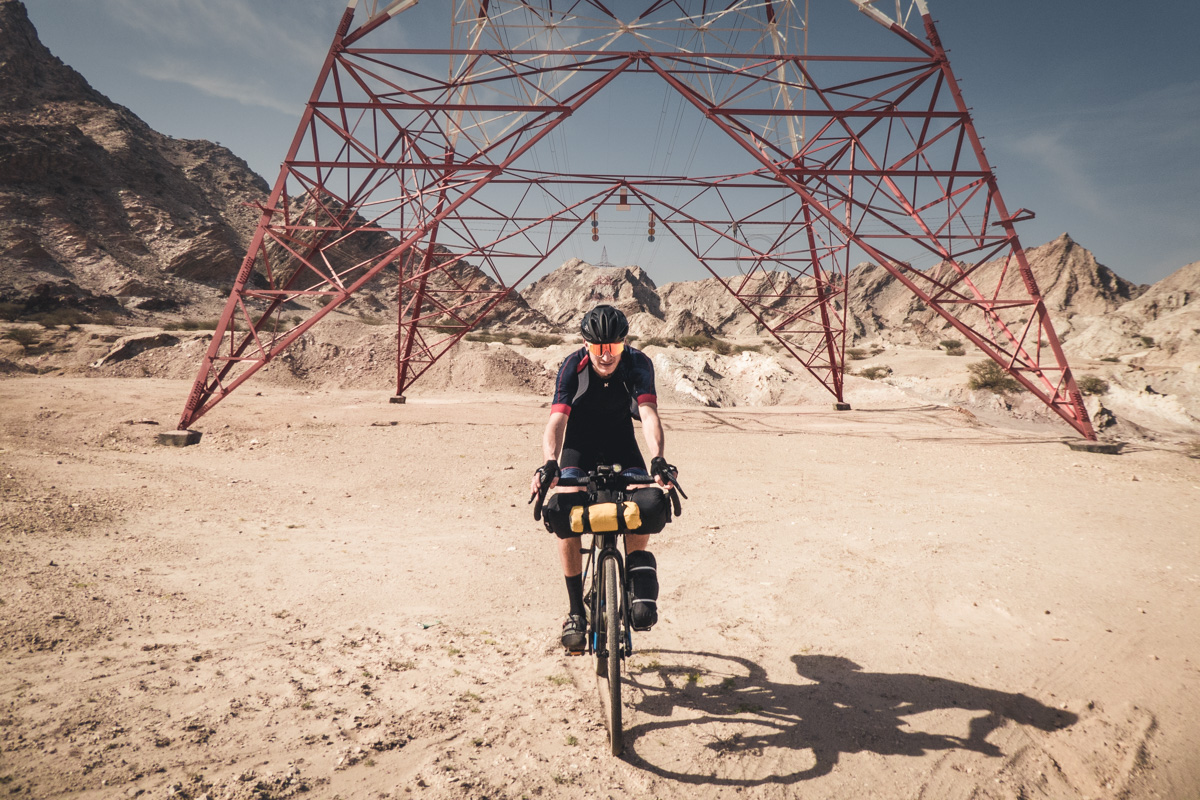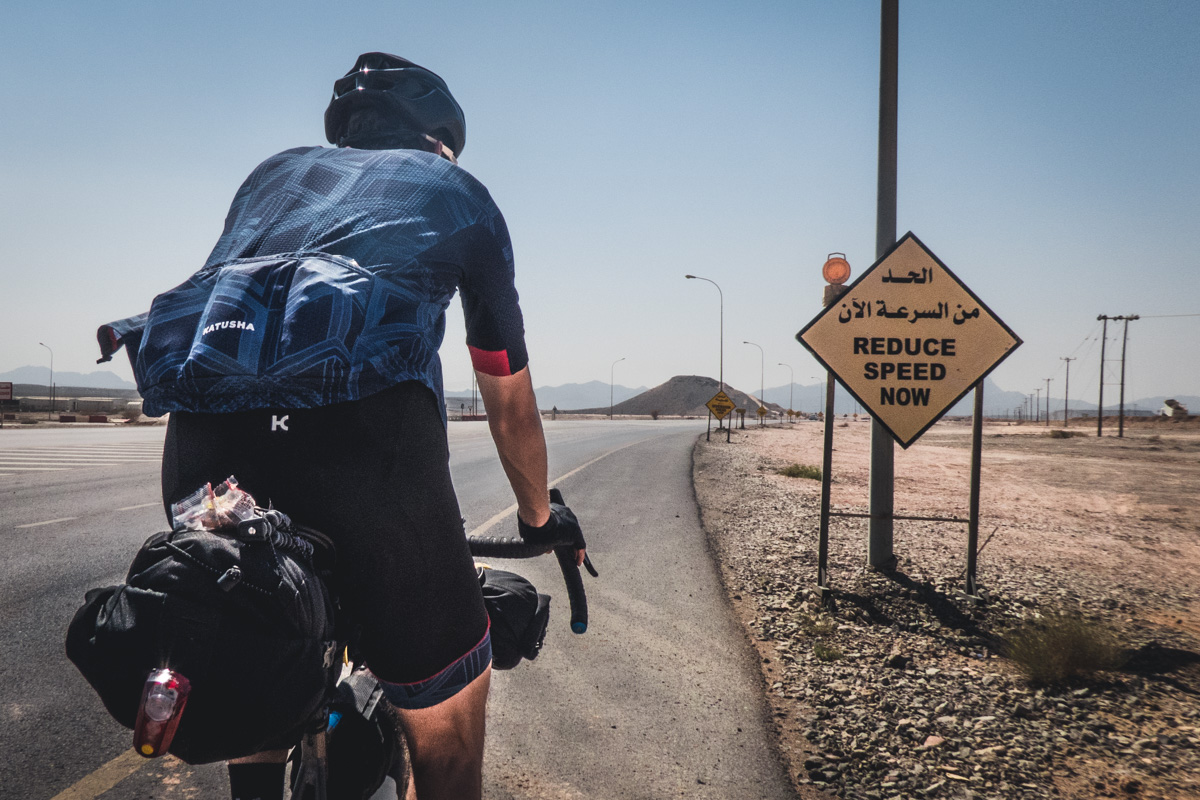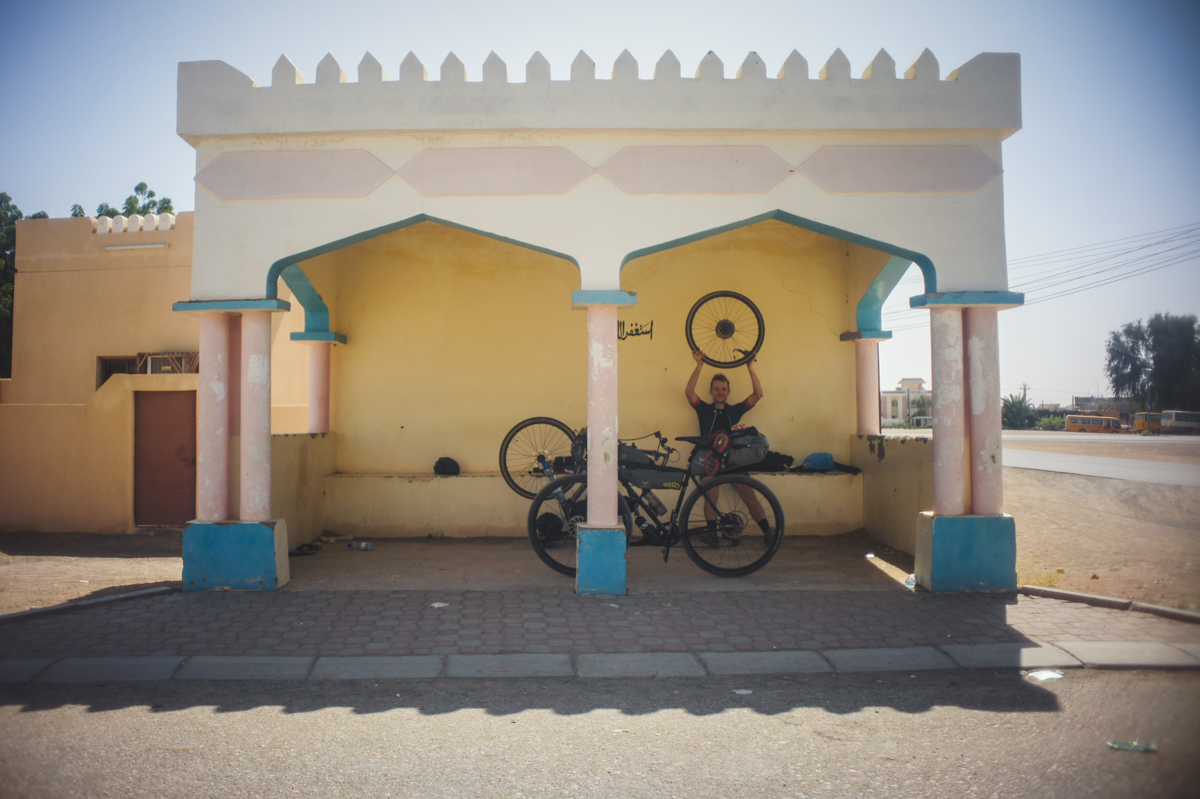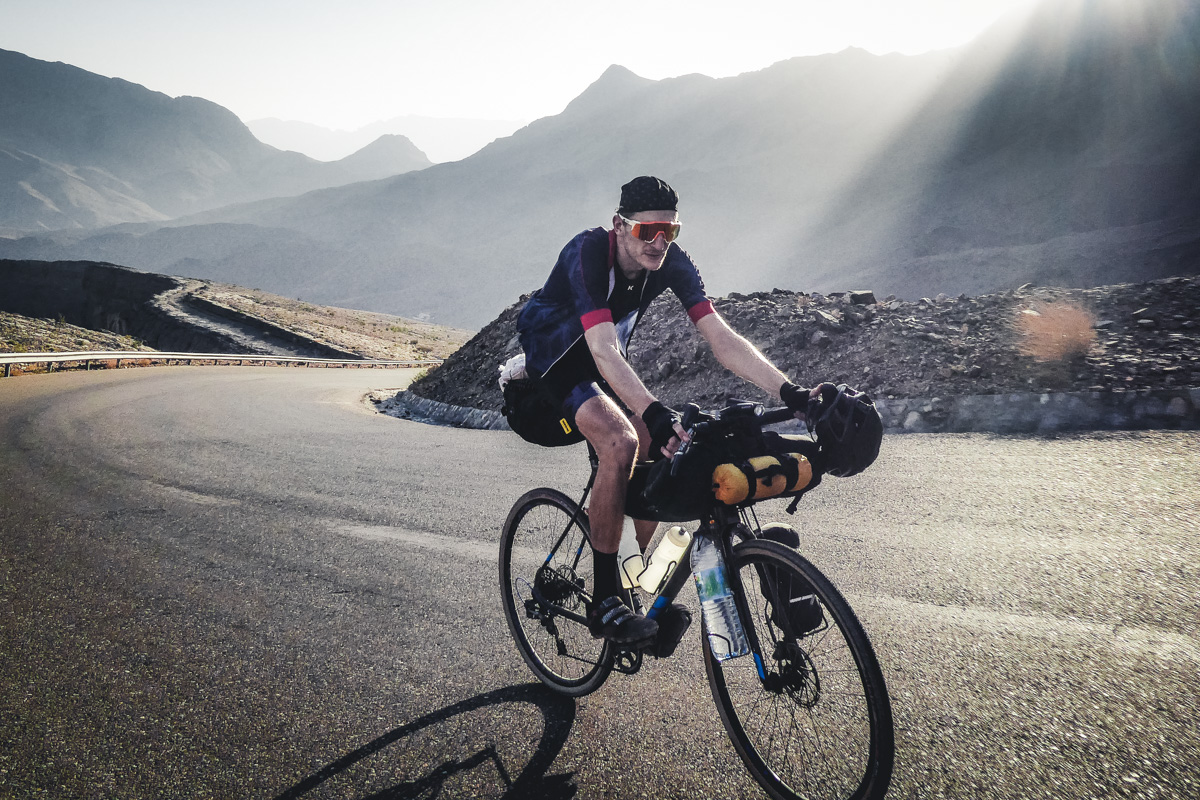 WATER
I had two normal sized bidons mounted inside my frame with 1.5 litres in total and additionaly had the option to carry a big bottle of up to 1.5 litres on my fork, which i mainly used close before finding a camping spot. As you aren't the only one who is suffering under the heat, the water infrastructure is really good. Next to supermarkets, small shops or petrol stations you will get water at nearly every mosque and several other open source places – just be aware that a filter is mounted before the tap. I prefer to always fill my bottles as soon as i have the chance for it.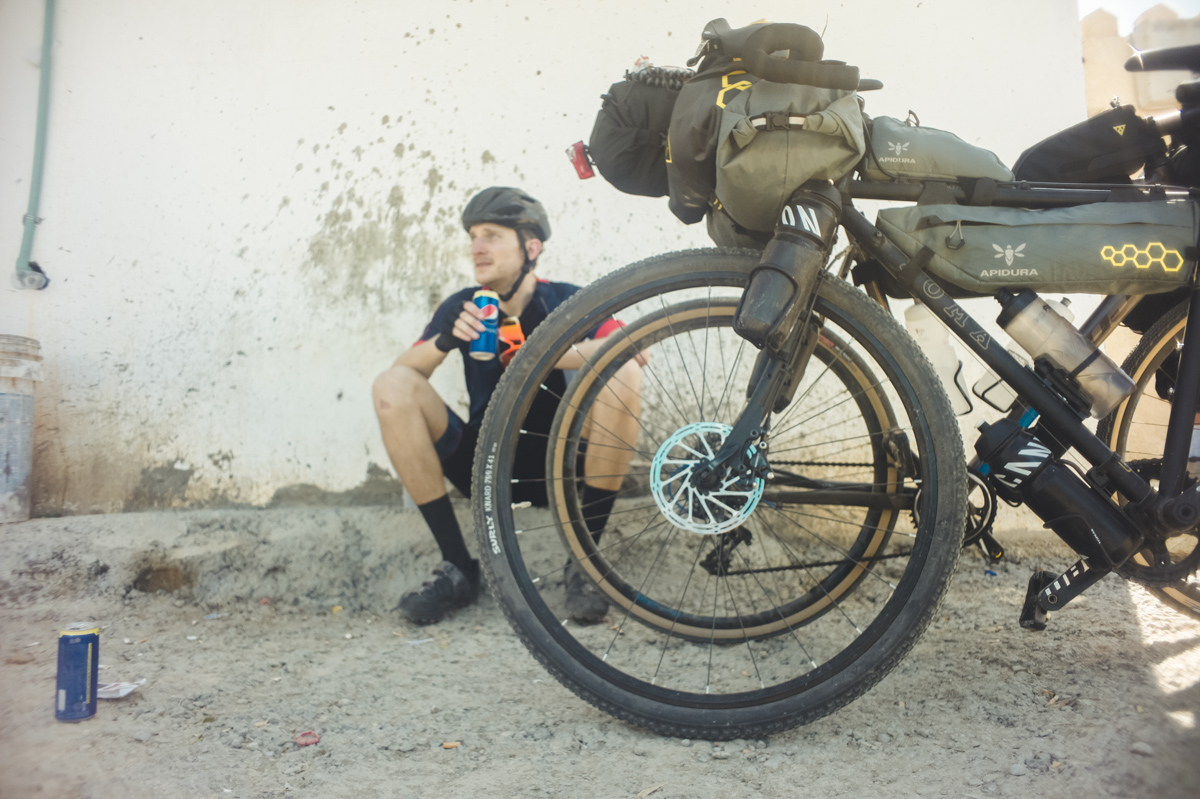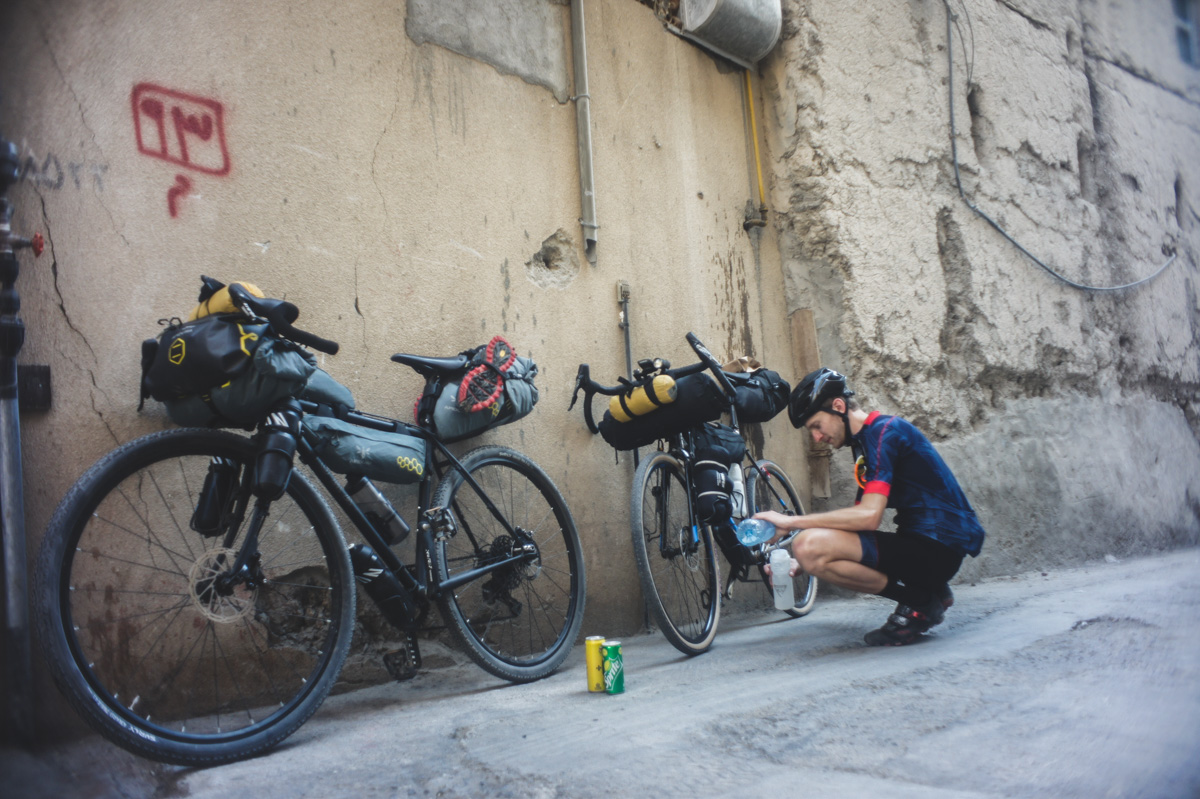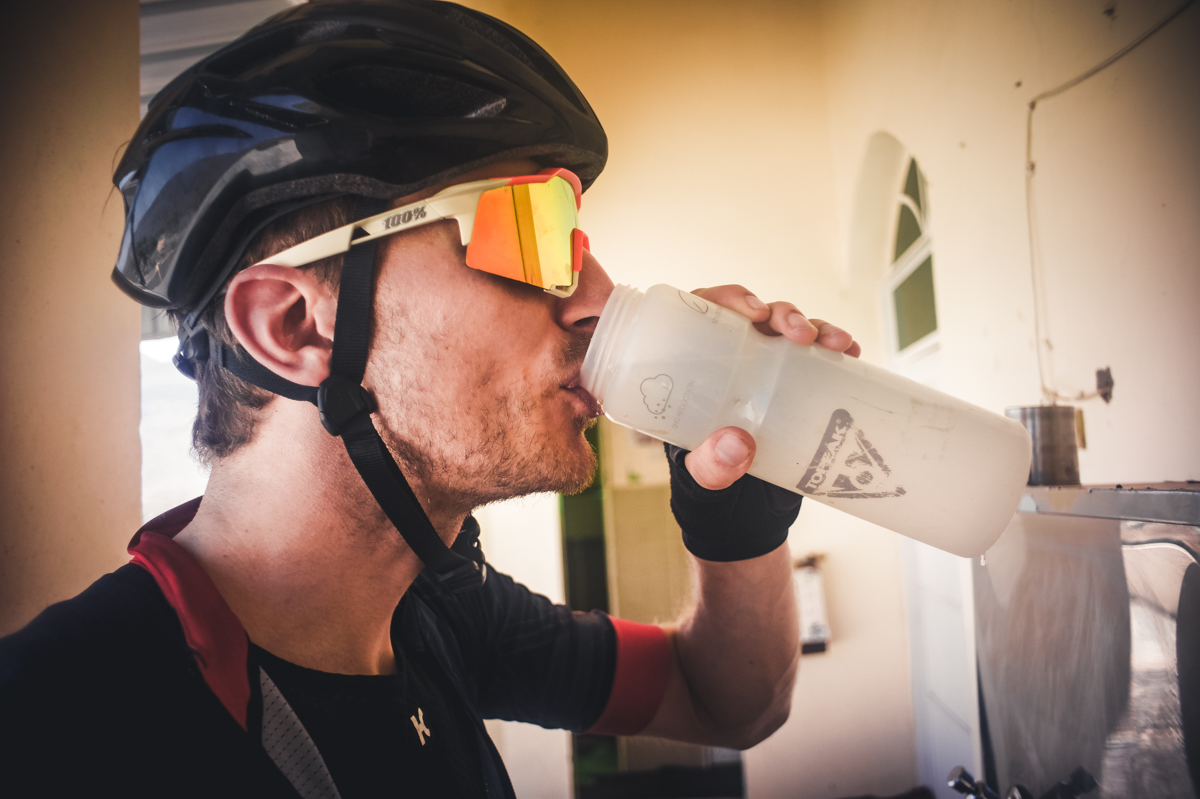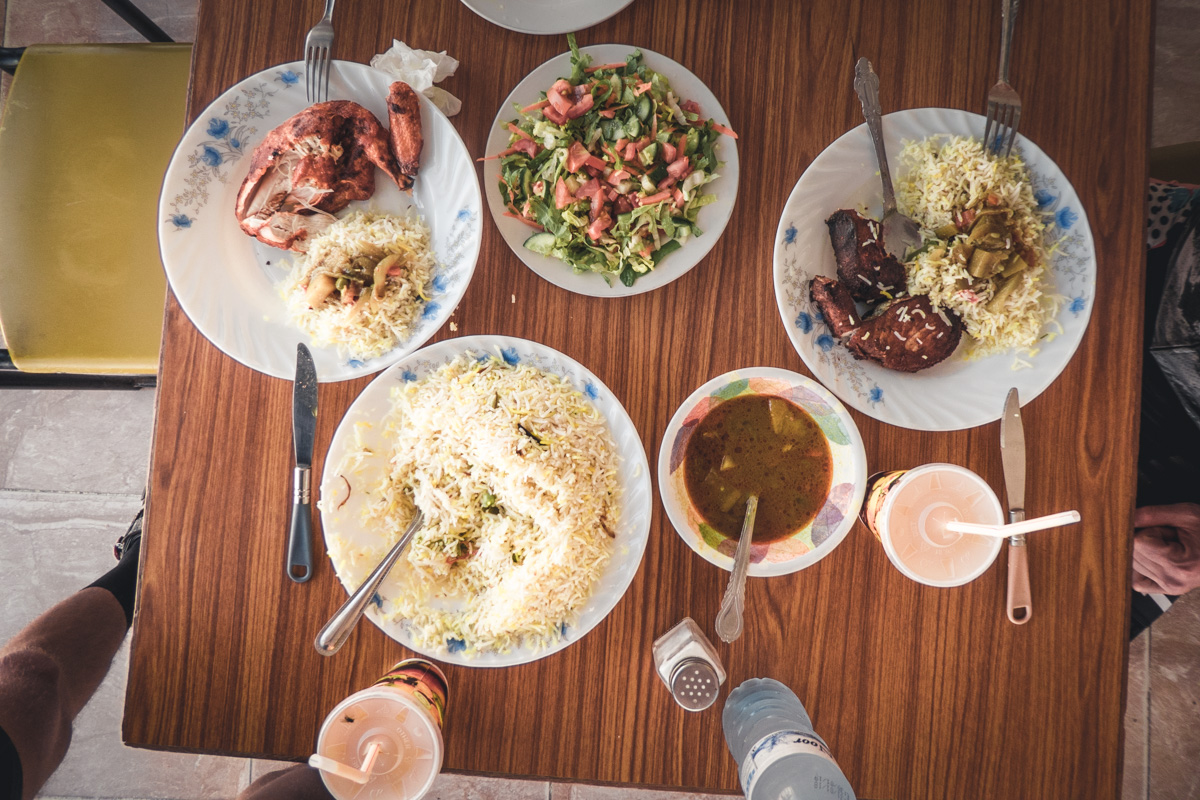 FOOD
It took some time to find out how to supply proper. There are plenty of so called Coffee Shops. They offer all sorts of cold drinks, fresh juices and a variety of sandwiches or burgers. Often they offer daily dishes like chicken with rice. In addition we equipped with packed cake, croissants and numerous sweets and cookies for breakfast and the small hunger in between while riding. These stuff kept me going quite well, also I longed for some healthy and fresh food after countless chicken burgers and – sandwiches.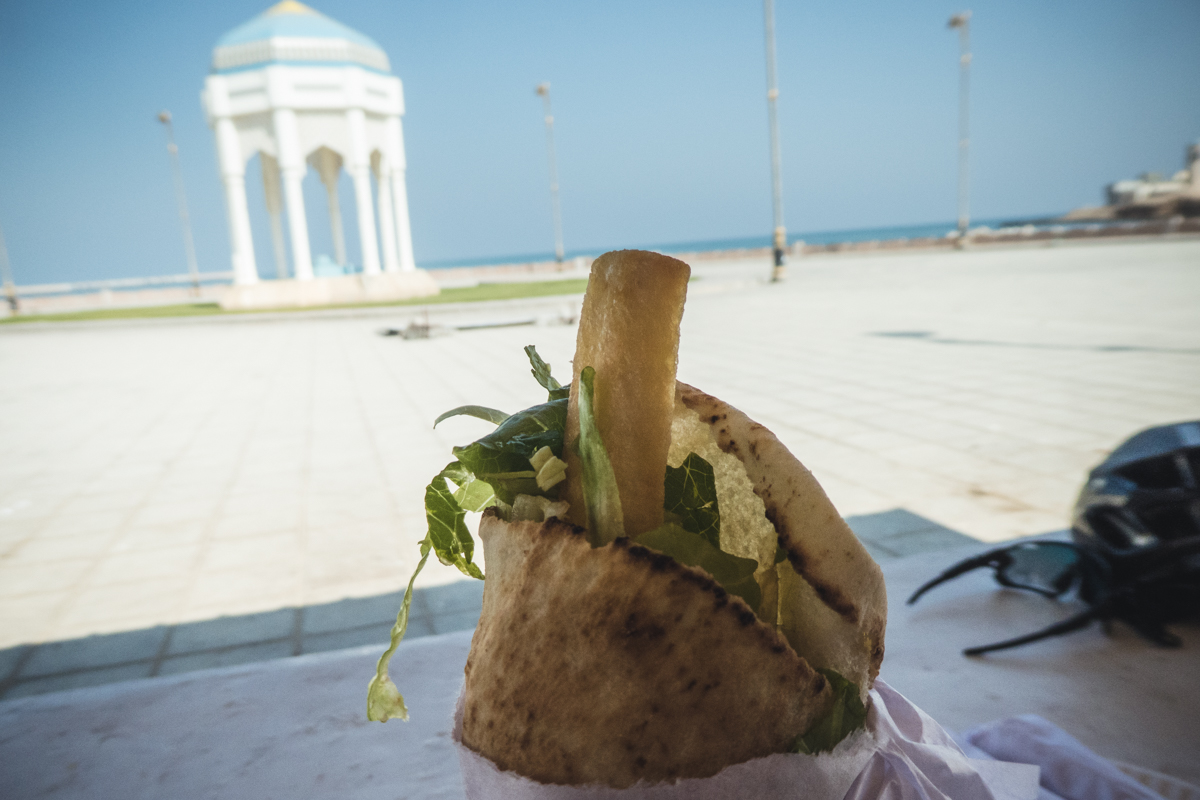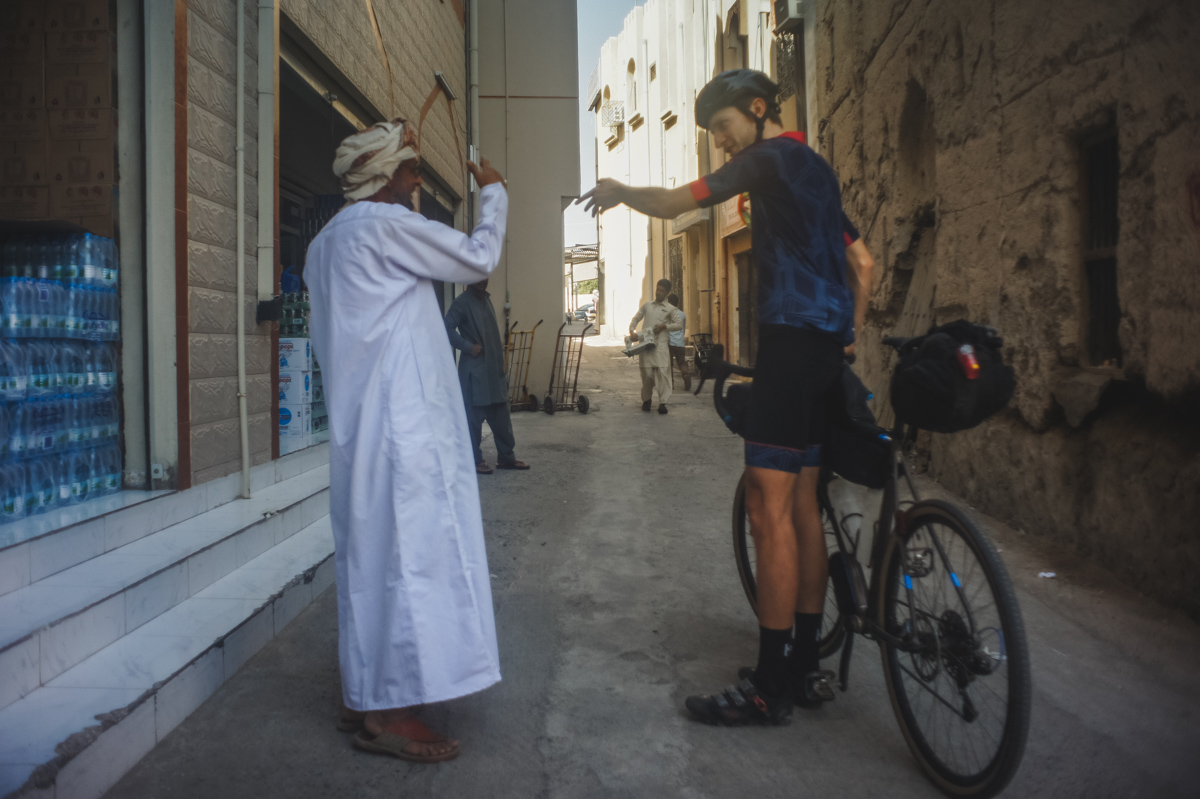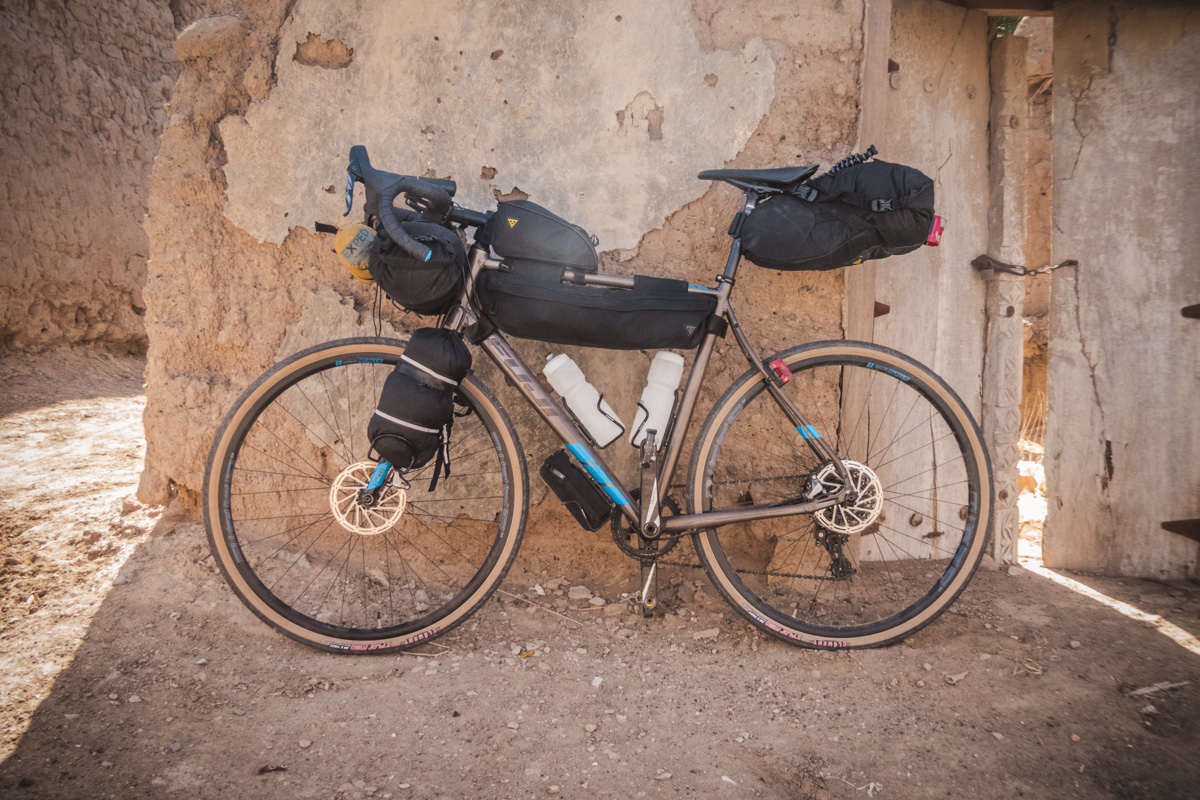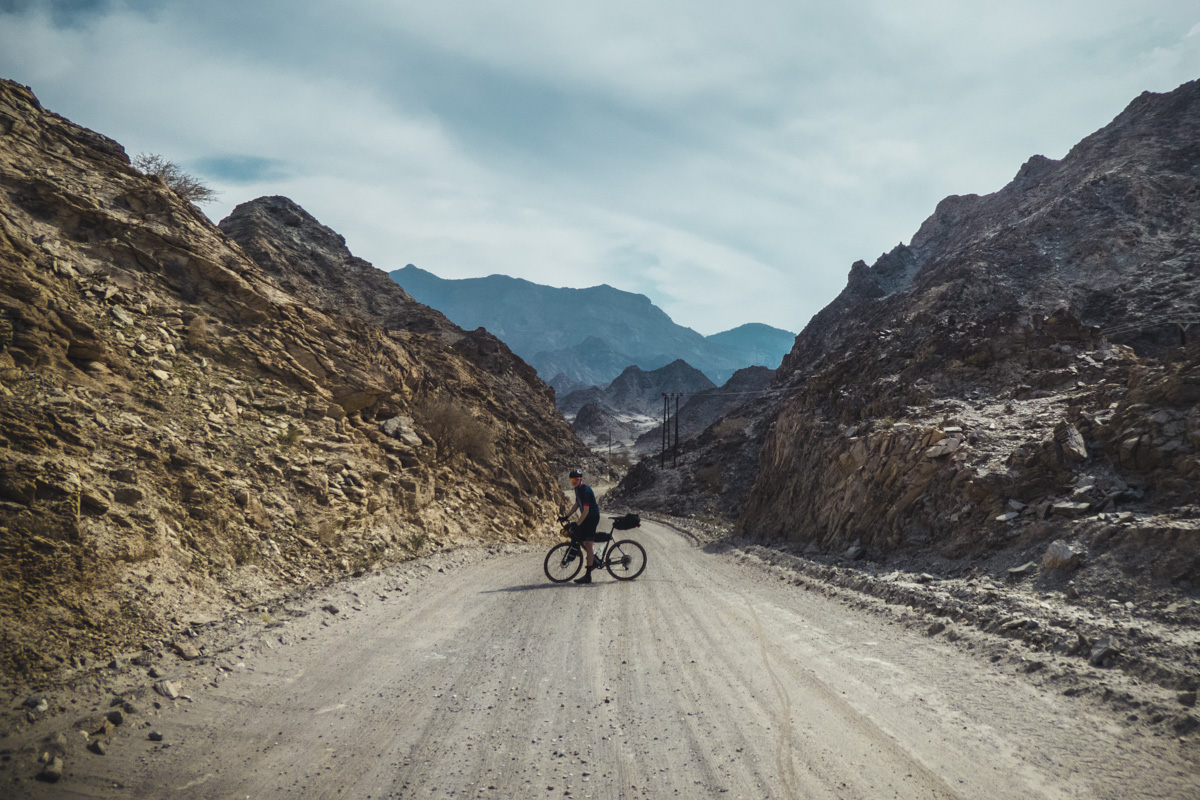 ROAD CONDITIONS
From endless gravel roads to small trails to motor highways – you have the choice. On most of the streets we´ve been cycling on perfect tarmac and a breakdown lane, wide enough to cycle next to each other. Smaller roads without an extra lane could get annoying and seem very dangerous to me. In addition you can ride gravel shortcuts nearly everywhere you feel for it.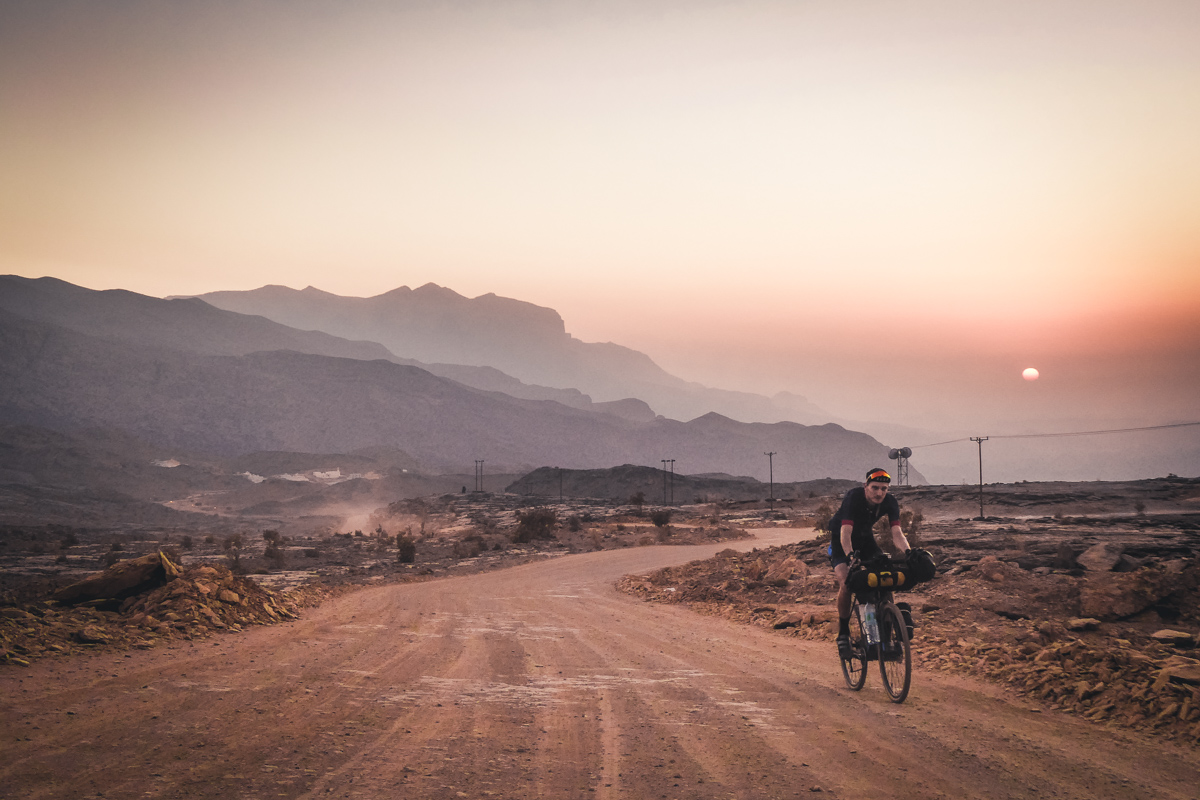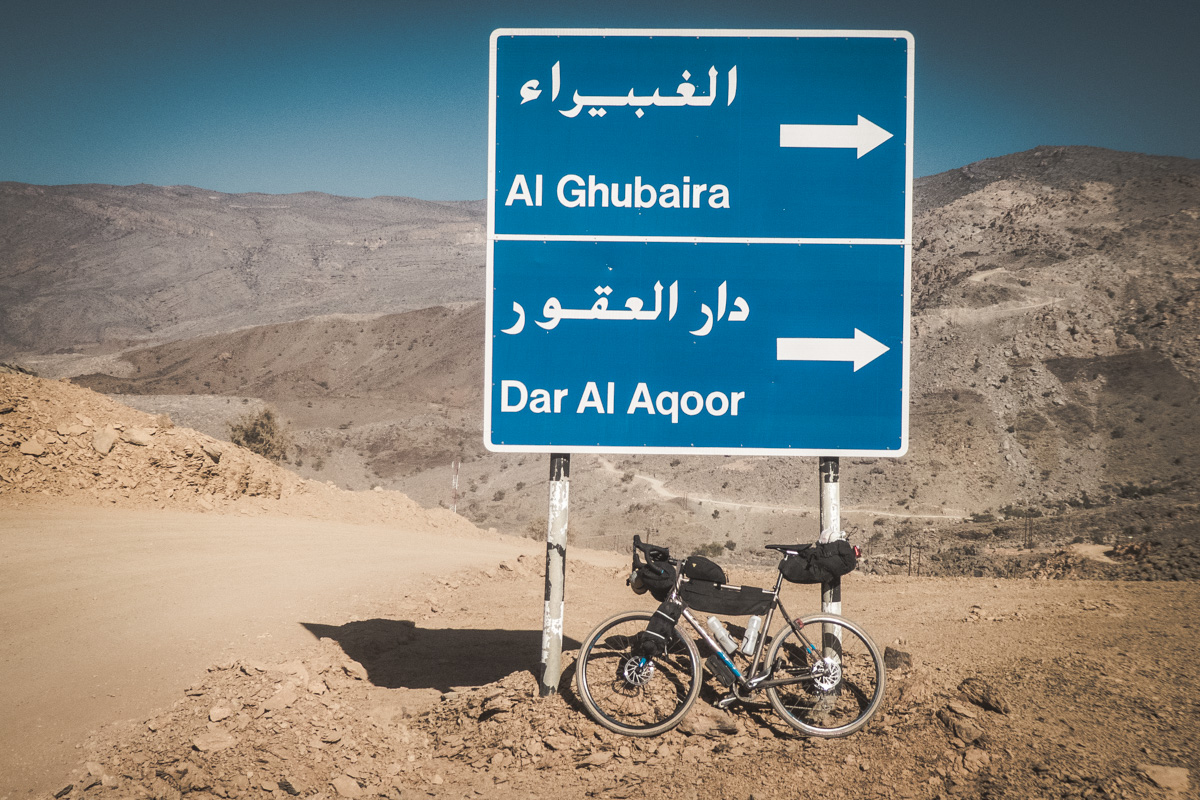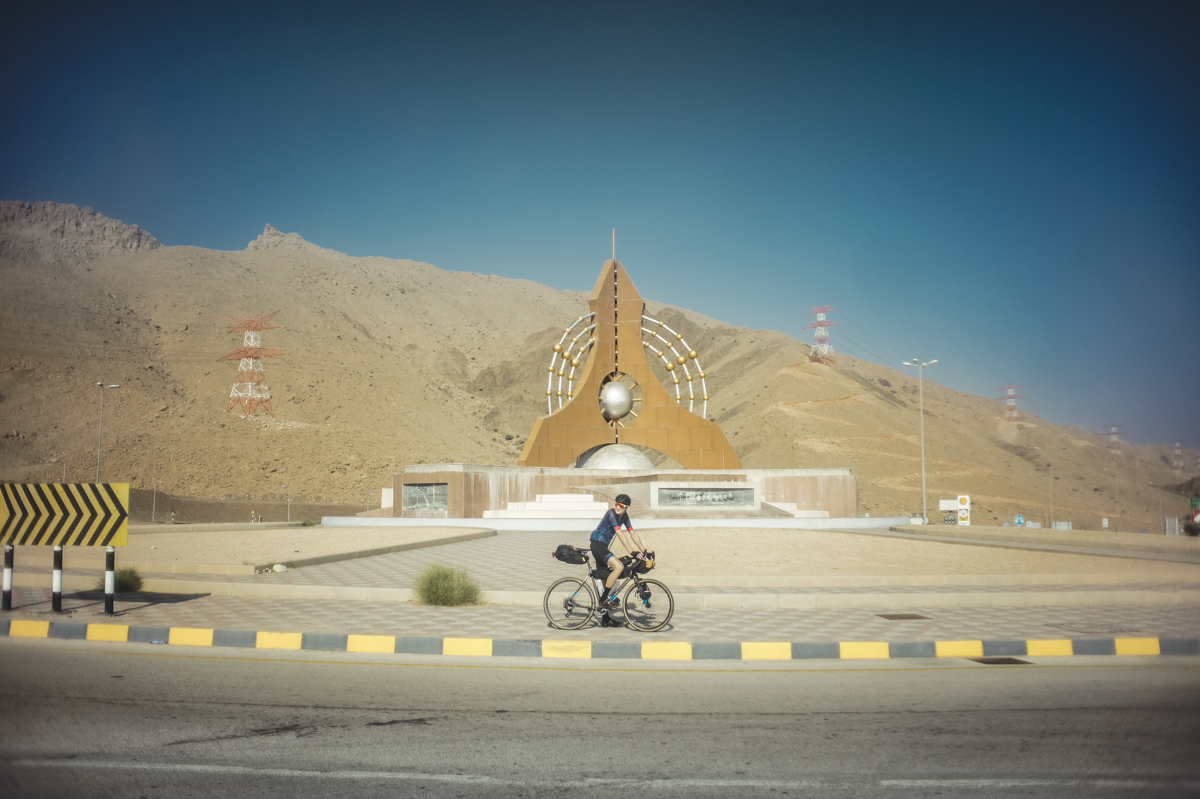 TENTLIFE
You won´t have any problems to find a sweet spot for camping. Just keep in mind that that the ground is very sandy and rough and you maybe face the problem of finding a good spot for your pegs. Thats why we chose to bring self standing tents, that don't need any tension. There were no wild animals or sneaky crawlies that disrupted my sleep, except some funny goats on top of Jebel Shams.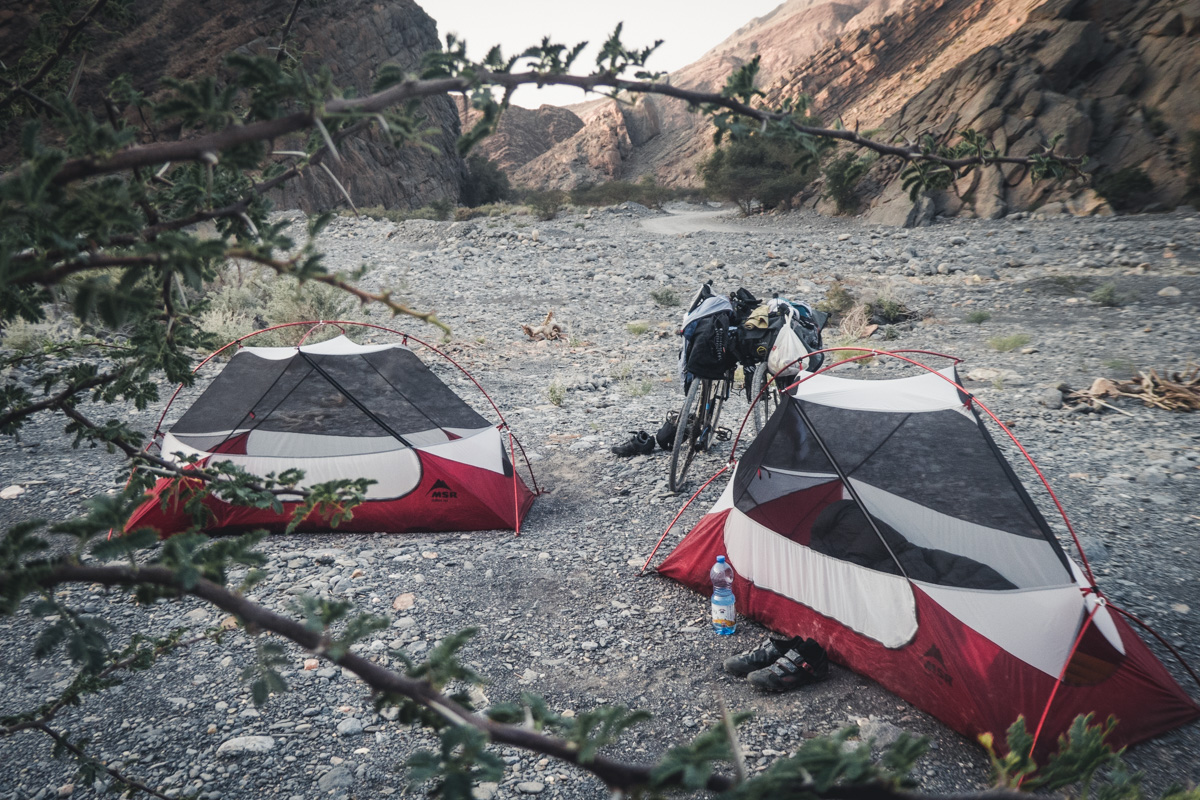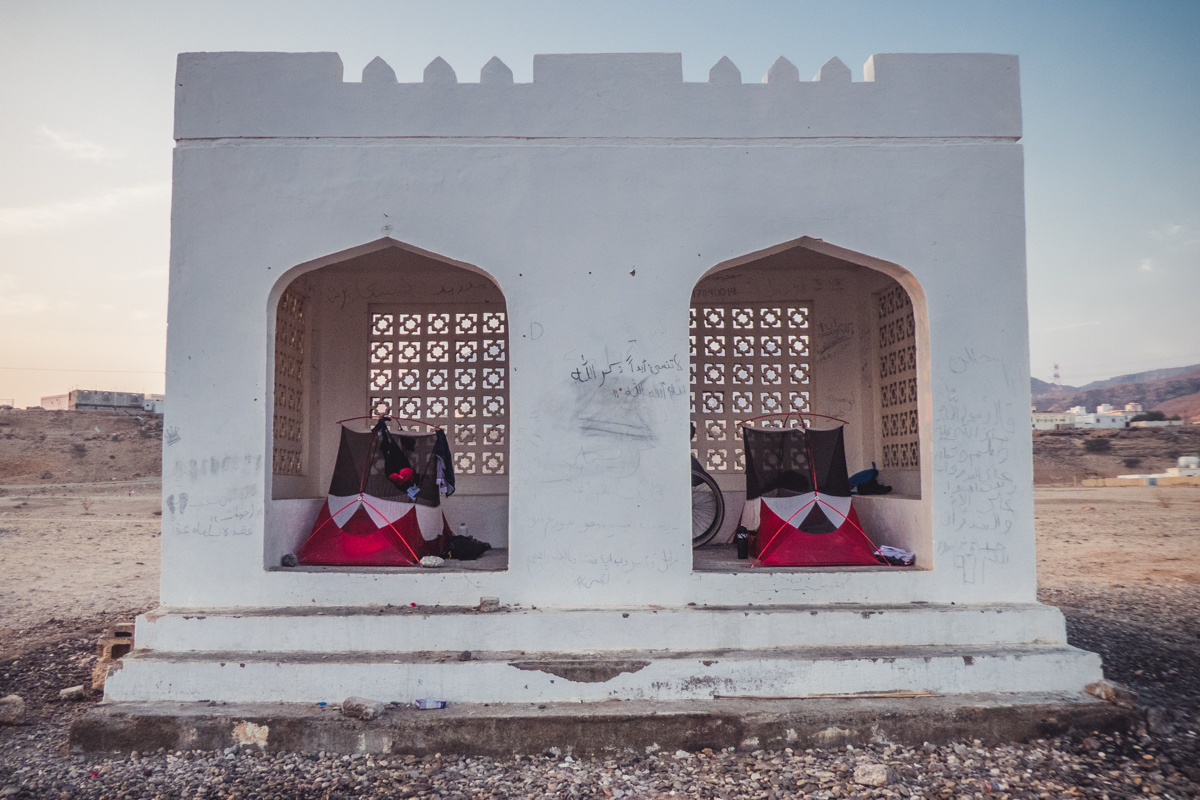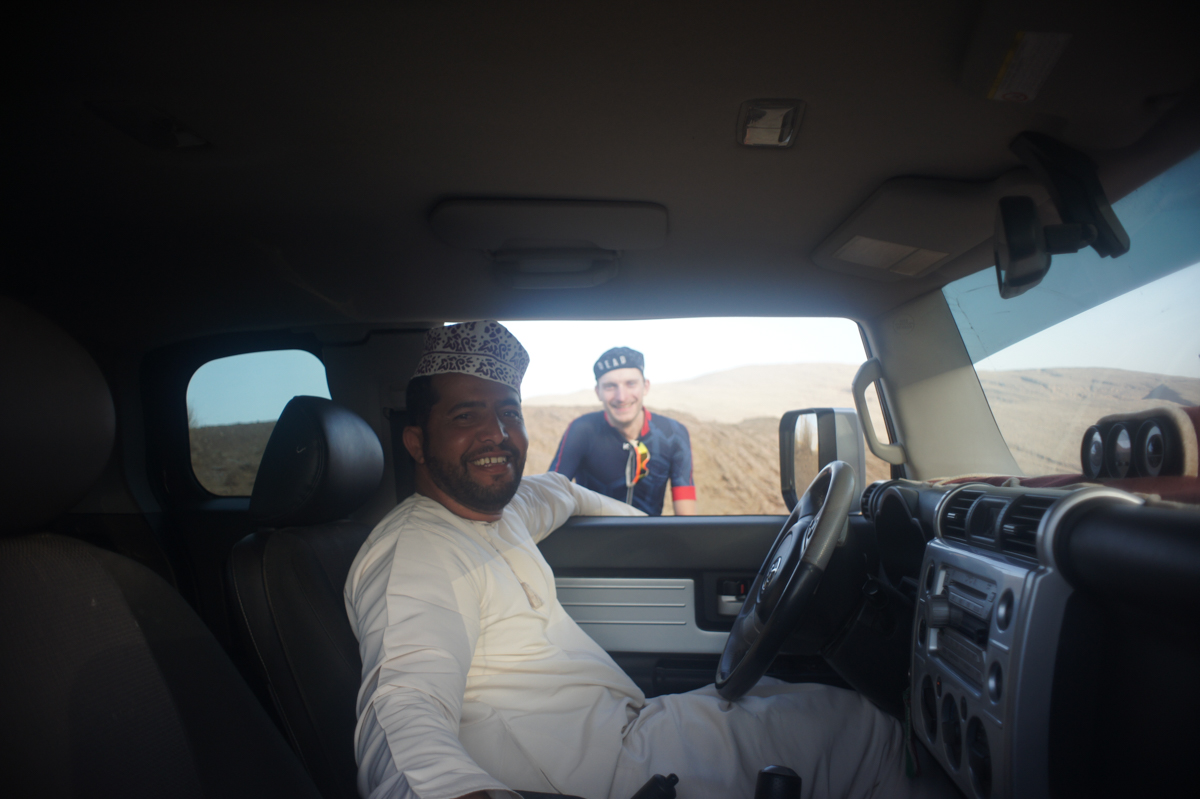 PEOPLE
Always helpful, interested, friendly and time for short chat. From getting the offer to pump up my flat tire, in case I get tired, to offer a lift in his 4×4 to the top of the hill because it will get dark, to a constant honking and waving while riding.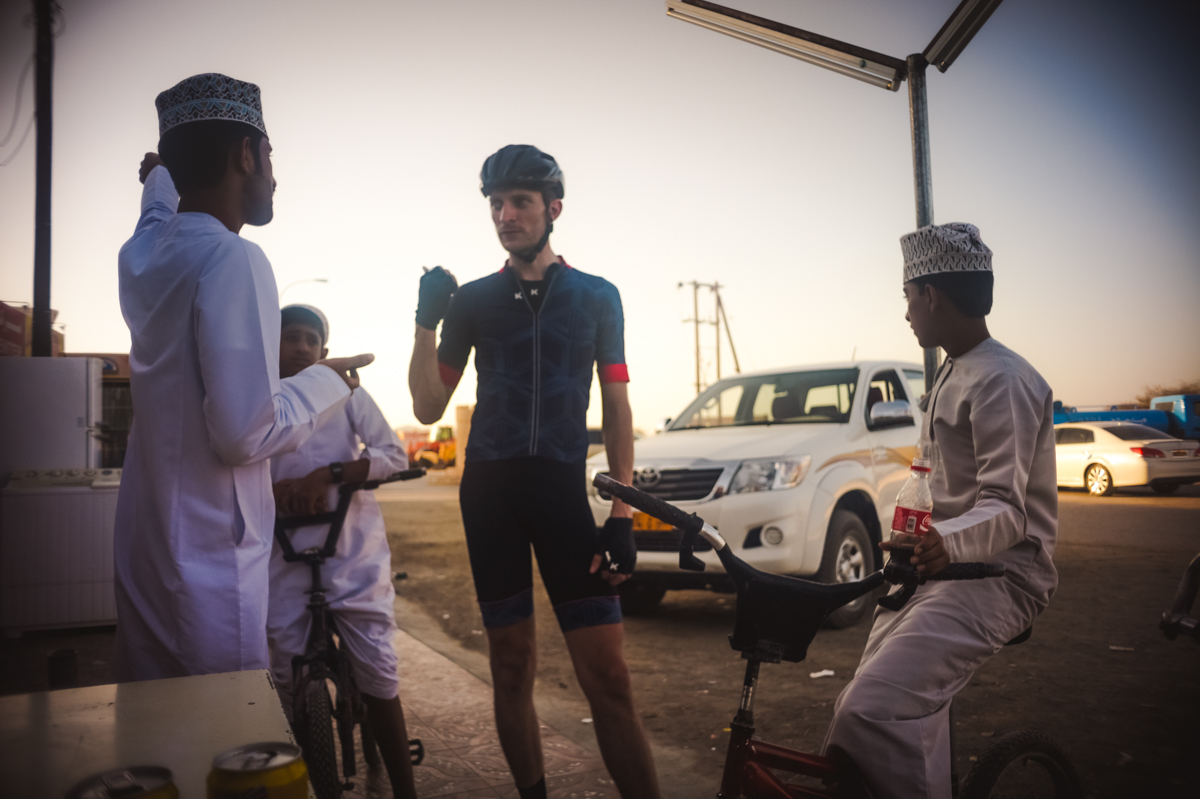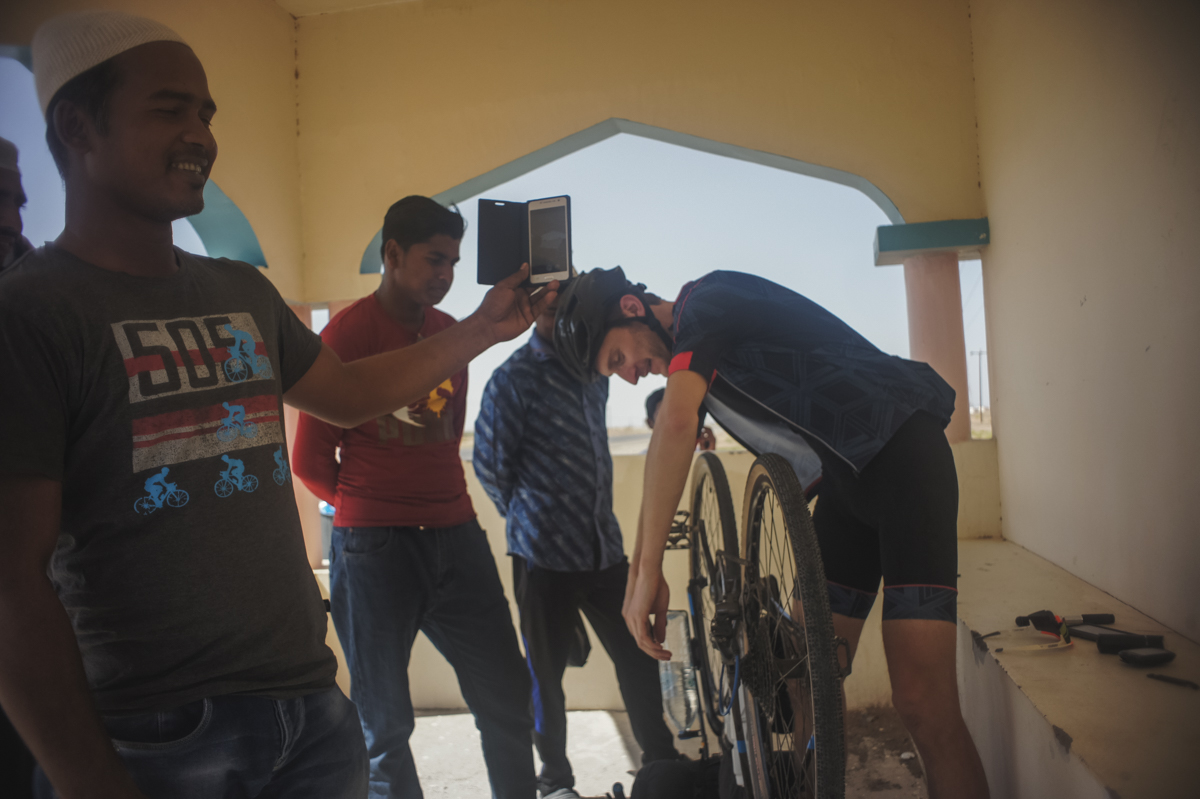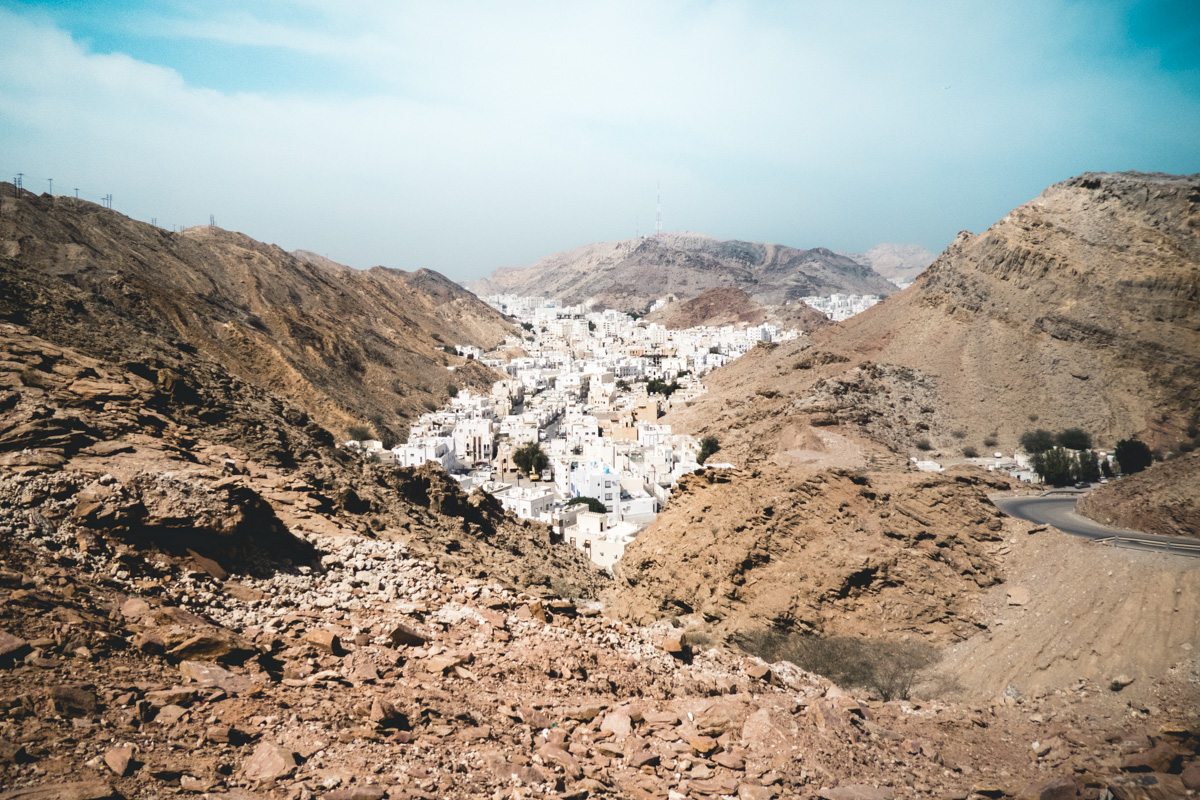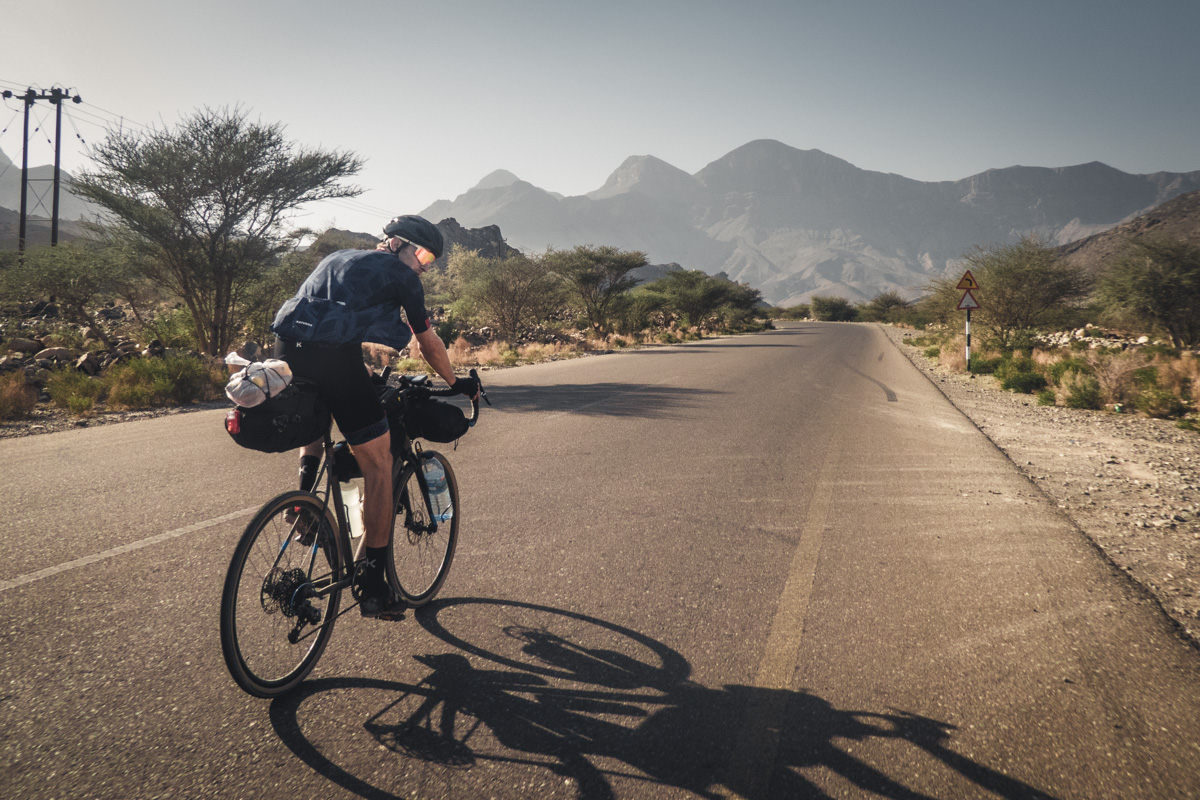 Will I go there again?
inshallah