As I get asked a lot about my equipment and a packlist, you will find everything that I use over here. This system worked great on my last bikepacking trip through the Balkans. You can read the complete write up of the tour over here. For my recent tour through the Oman I changed the sleeping bag to a warmer version, as I want to sleep on top of Jebel Shams at a height of 2000m, where temperature will most likely fall to 5 degree celsius. I also changed the tent, as I had difficulties setting up the tent with the right tension in sandy grounds.
Bike
I started with a Canyon Roadbike with 28-622 wheels. Now my weapon of choice is a FUJI Jari 1.1. It is a lightweight bike that allows me to go offroad, if wanted, but still gives me the change to pedal the whole day and make some miles.
Bags and Packlist
I use the complete series of topeak bikepacking bags. In addition I started to use a very small vaude backpack.
After some days, my backing system was:
Frontloader: Clothes and Sleeping Bag
Backloader: Tent, Shoes, Rainjacket, small additional stuff
Midloader: Tentpoles, Pegs, Powerpack for the light, Wind Vest and small additional stuff.
Toploader: Powerpack, Camera, Mobile
Backpack: First Aid, Cosmetics, Documents and money, Food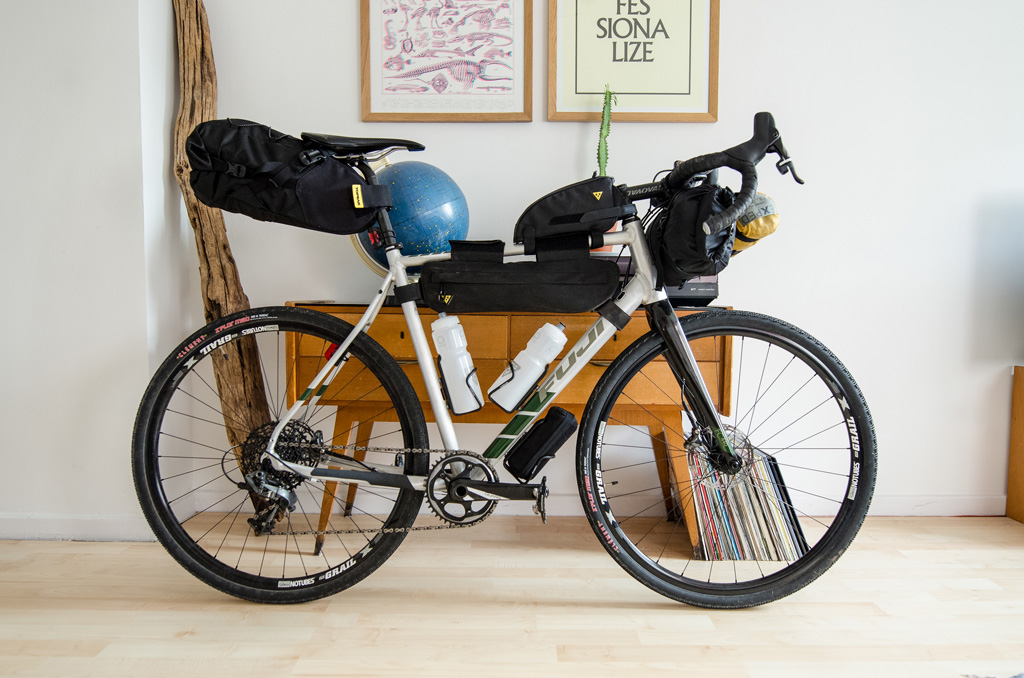 Sleeping / Camping
Tent 1: Vaude Power Lizzard Sul 1-2P
Pro: super lightweight, lot of space, inner and outer tent in one construction, great waterproofness
Con: to build it up you must use tent pegs. that could be annoying to impossible, depending on the underground
Tent 2: MSR Hubba NX Green
Pro: super easy to put up, inner and outer tent can be used separate, no pegs needed
Con: tbc – will test it in Oman
Tent 3: Topeak Bikeamper
only tested it for one night. more a bivi than a tent. more to come this summer.
Sleeping Pad: Exped Synamt UL 7
Sleeping Bag Autumn/Cold: Mountain Equipment Helium 400 XL
Sleeping Bag warm: Salewa Bike and Hike
Light & Electricity
Front: Topeak Whitelight HP 1 W AA
Back: Topeak Aero USB, Busch & Müller IXXI
Headlamp: Silva Ninox 2
Powerpack: Anker Powercore 10000mAh
Navigation & Planning
I use a Garmin Edge 810 for navigation and tracking. In addition, I track my tours with my mobile in flightmode, to safe power. If its not on strava, i didn't happen. Follow me here.
On my last tour I took an offline, printed map with me, but didn't need it once. I also bought local sim cards with some data package, to be able to look up the way on the go and for having a good feeling while being remote.
For planning and building I use "komoot".
komoot makes a rough tour suggestion. Based on this, I do my homework and start searching for the best streets, tracks or bicycle lanes around. Instagram is also a good tool to find nice places.
A lot of cyclists I meet are using maps.me, an offline navigation for your mobile. I used it in Albania and it worked really fine. Maybe a good alternative for some backup navigation.
Clothes
Usually I carry one set of bike clothes and one set of civil clothes.
Bike: BIB Short and Jersey, Arm- and Legwarmers, Cap, Wind Vest, Rain Jacket, Socks, Gloves
Civil: Long Pant, merino pullover, 1–2 Shirts, Shoes (no Flip Flops), Underwear, down jacket or vest
Additional Gear
Knife, First Aid Kit, Minitool, Spare tubes, Patches, Pump, Cable Ties