It is Thursday evening writing this and right now, I feel pretty excited and fulfilled with happiness, thinking about bikepacking for the next two weeks.
I just finished to collect everything together that I will take with me on the next two weeks of bikepacking. As I get asked a lot about my equipment and a packlist, I'll start a list with my gear that I use. You can read the complete write up of the tour over here.
Duration: 12 days
Distance: ca. 1.300 km
Ascend: 17.000 hm
Stages: Zagreb – Sarajevo – Durmitor – Dubrovnik – Kotor – Tirana
Bike
I started with a Canyon Roadbike where I added some good wheels and 28-622 wheels. Now my weapon of choice is a FUJI Jari 1.1. It is a lightweight bike that allows me to go offroad, if wanted, but still gives me the change to pedal the whole day and make some miles.
Bags and Packlist
I use the complete series of topeak bikepacking bags. In addition I started to use a very small vaude backpack.
After some days, my backing system was:
Frontloader: Clothes and Sleeping Bag
Backloader: Tent, Shoes, Rainjacket, small additional stuff
Midloader: Tentpoles, Pegs, Powerpack for the light, Wind Vest and small additional stuff.
Toploader: Powerpack, Camera, Mobile,
Backpack: First Aid, Cosmetics, Documents and money, Food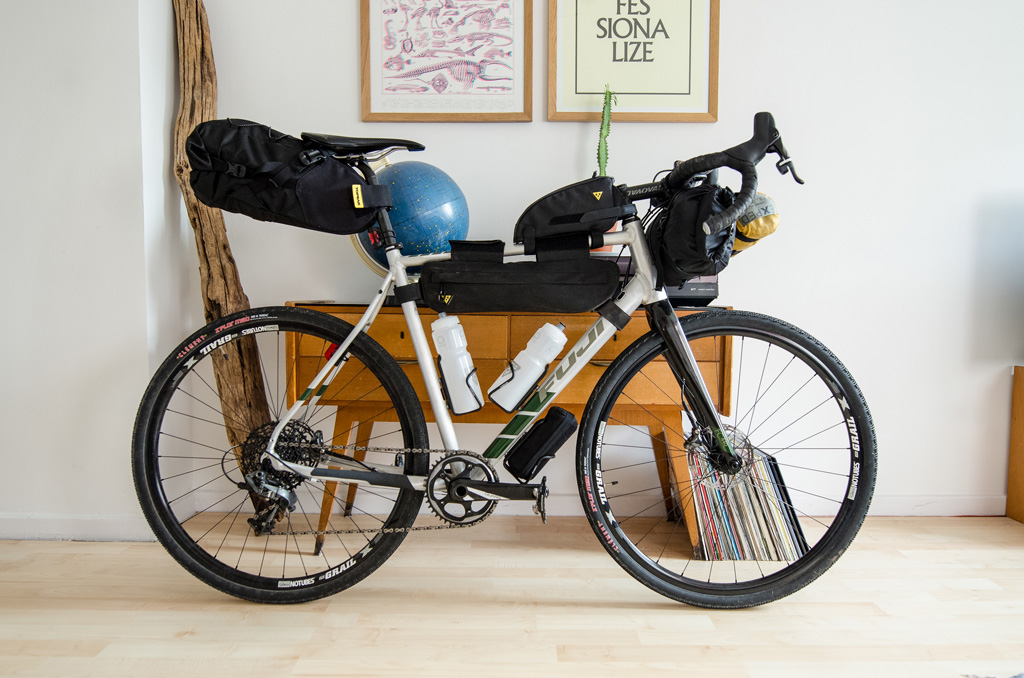 Sleeping / Camping
Tent: Vaude Power Lizzard Sul 1-2P
Sleeping Pad: Exped Synamt UL 7
Sleeping Bag Autumn/Cold: Mountain Equipment Helium 400 XL
Sleeping Bag Warm: Salewa Bike and Hike
Light & Electricity
Front: Topeak Whitelight HP Mega 10W
Back: Topeak Aero USB, Busch & Müller IXXI
Headlamp: Silva Ninox 2
Powerpack: Anker Powercore 10000mAh
Navigation & Planning
I use a Garmin Edge 810 for navigation and tracking. In addition, I track my tours with my mobile in flightmode, to safe power. If its not on strava, i didn't happen. Follow me here.
On my last tour I took an offline printed map with me, but didn't need it once. I also bought local sim cards with some data package, to be able to look up the way on the go and for having a good feeling while being remote.
For planning and building I use "komoot". komoot makes a rough tour suggestion. Based on this, I do my homework and start searching for the best streets, tracks or bicycle lanes around.
A lot of cyclists I met use maps.me, an offline navigation for your mobile. I used it in Albania and it worked really fine. Maybe a good alternative for some backup navigation.
Clothes
Usually I carry one set of bike clothes and one set of civil clothes.
Bike: BIB Short and Jersey, Arm- and Legwarmers, Cap, Wind Vest, Rain Jacket, Socks, Gloves and Underwear
Civil: Long Pant, Pullover, 2 Shirts, Shoes (no Flip Flops), Underwear
Additional Gear
Knife, First Aid Kit, Minitool, Spare tubes, Pump